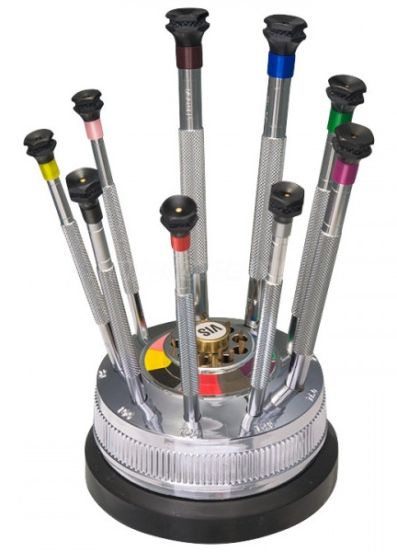 Rotary Base with 9 screwdrivers, 0.6 - 3.0 mm, with Anti-Magnetic Blades and Spare Blades 212450
På lager: Online
Afsendes straks på alle hverdage ved bestilling før kl. 15.00
UrKompagniet.dk er udpeget som autoriseret internetforhandler af alle
BECO produkter
i Danmark. BECO leverer watch windere og tilbehør dertil med høj funktionalitet og flot design.
Bemærk:
På grund af varens størrelse, kan der ikke bestilles gaveindpakning til Beco produkter, da indpakningspapiret ofte bliver krøllet under transport. Bestilles gaveindpakning alligevel, vil beløbet blive refunderet.
Produktet er lagt i din indkøbskurv!
Produktbeskrivelse
Rotatable base Ø 66 mm with 9 screwdrivers. The screwdrivers have a non-slip shaft and rotatable heads. The anti-magnetic blades are interchangeable.
Included screwdrivers:
Ø 0.6 mm, pink, including spare blade
Ø 0.8 mm, yellow, including replacement blade
Ø 1.0 mm, black, including spare blade
Ø 1.2 mm, red, including spare blade
Ø 1.4 mm, gray, including spare blade
Ø 1.6 mm, violet, including spare blade
Ø 2.0 mm, green, including spare blade
Ø 2.5 mm, blue, including spare blade
Ø 3.0 mm, brown, including spare blade
Dimension
127x660x660 mm
Autoriseret dansk forhandler
Vi er autoriseret dansk forhandler af dette mærke. Det betyder stor tryghed for dig som forbruger: vished for uret er ægte, samt en officiel service og landsdækkende garanti.
Produktbeskrivelsen er udarbejdet specifikt til UrKompagniet.dk og må ikke kopieres helt eller delvist! Overtrædelse heraf vil blive mødt af et erstatningskrav.
Bemærk: Til dette produkt medfølger ikke en manual på dansk, men en manual på engelsk kan downloades online eller vedhæftes produktet.
Levering
Vi har i dag følgende leveringsmåder:
| | |
| --- | --- |
| Leveringsmetoder Danmark | Pris |
| Afhentning på vores lager i Søborg - Generatorvej 8C 2tv, 2860 Søborg - 0-1 hverdage | Gratis |
| Levering til pakkeboks/postbutik - 1-2 hverdage (PostNord) | 35 kr |
| Levering til privatadresse - 1-2 hverdage (PostNord) | 49 kr |
| Levering til arbejdsplads - 1-2 hverdage (PostNord) | 49 kr |
| Levering samme aften (Burd Delivery - København og omegn) | 39 kr |
Specifikationer
Specifikationer

| | |
| --- | --- |
| Varenummer | 212450 |
| EAN | 4022739118937 |
| Mærke | Beco |
Størrelsesguide
Urets størrelse
For bedre at kunne forstå størrelsen på dette ur, har vi sammenlignet det med en dansk 5-krone. Billedet til venstre viser hvor meget af uret der dækkes af 5-krone mønten (som er 28,5 millimeter i diameter). Hvis du ønsker at se en oversigt over flere størrelser sammenlignet med en 5-krone mønt, så finder du den her

Hvordan måles urets størrelse?

Diameteren
Vi bruger udtrykket diameteren, men da ikke alle ure har cirkelformet urkasser, så er dia meteren reelt bredden målt fra venstre til højre. Bemærk at enkelte producenter inkluderer kronen (til at indstille uret) og knapperne når de måler bredden, men vi forsøger at standardisere alle urene ved ikke at medregne kronen som en del af bredden.



Tykkelsen
Tykkelsen - eller højden på uret i profil - angives ved at måle uret fra top til bund som illustreret nedenunder. Til sammenligning er en dansk 5-krone mønt 2 millimeter tyk.
Man definerer normalt urene ud fra disse tal:
Tynd: 4-6 millimeter
Normal: 6-12 millimeter
Stort: 12-14 millimeter
Oversize: 14-18 millimeter