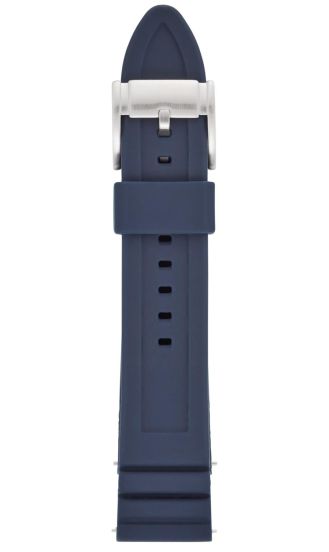 Løsrem fra Fossil i blå silikone - Fossil 22mm Blue Silicone Strap S221302
Spar 54%
Vores pris
142,00 kr
Vejl. pris
312,00 kr
Fossil
Udsolgt
Uret bliver ikke længere produceret
Denne rem passer til følgende modeller:
This strap fits any case that accommodates a 22mm band width. UrKompagniet.dk er udvalgt som officiel forhandler af
Fossil ure
i hele Danmark. Det giver dig vished for at dit købte ur er 100% originalt og kvalitetstestet.
Detaljer
Autoriseret dansk forhandler
Vi er autoriseret dansk forhandler af dette mærke. Det betyder stor tryghed for dig som forbruger: vished for uret er ægte, samt en officiel service og landsdækkende garanti.
Smart-stift
Remmen/lænken er forsynet med et smart stiftesystem, der gør det utroligt nemt at skifte remmen/lænken på uret. Kræver hverken tur til urmageren eller brug af værktøj.
Silikonrem som passer til This strap fits any case that accommodates a 22mm band width.
Produktbeskrivelsen er udarbejdet specifikt til UrKompagniet.dk og må ikke kopieres helt eller delvist! Overtrædelse heraf vil blive mødt af et erstatningskrav.
Levering
Gratis fragt ved køb på minimum 500 kroner
Du har mulighed for at vælge gratis fragt, hvis du handler for minimum 500 kroner. Vi vælger forsendelsestypen som afhænger af ordrens vægt og størrelse, og kan tage op til 3-10 hverdage. Er ikke hjemmelevering.
Prioriteret håndtering og forsendelser til hjemmeadresse eller til udleveringssted
Har du ønske om at modtage din bestilling indenfor 1-2 hverdage, så kan du vælge prioriteret håndtering og forsendelse. Det koster 29 kroner for afhentning ved lokalt udleveringssted og 39 kroner for hjemmelevering. Forsendelsen er forsikret og med sporingskode, så du kan følge forsendelsen hjemmefra.
Ekspreslevering i Storkøbenhavn
Bor du i Storkøbenhavn, kan du få dit ur leveret med bud samme aften, hvis du bestiller inden klokken 14 på en hverdag. Du vil modtage uret samme dag på din leveringsadresse mellem 18.00 og 22.00 (omkring travle perioder kan der ske forsinkelser). Det koster 35 kroner, og muligheden vil automatisk komme frem i betalingsfasen under leveringsmetode, såfremt du bor i et postnummer der er dækket og vi har uret på vores hovedlager.
Specifikationer
Specifikationer

| | |
| --- | --- |
| Datovisning | Nej |
| Farve på lænke/rem | Blå |
| Rem/Lænke type | Silikone |
| Mærke | Fossil |
| Låstype | Spænde |
| Lænkens/remmens bredde | 22 |
| Spenne bredde | 26 |
| Låsfarve | Sølvfarvet |
Størrelsesguide
Urets størrelse
For bedre at kunne forstå størrelsen på dette ur, har vi sammenlignet det med en dansk 5-krone. Billedet til venstre viser hvor meget af uret der dækkes af 5-krone mønten (som er 28,5 millimeter i diameter). Hvis du ønsker at se en oversigt over flere størrelser sammenlignet med en 5-krone mønt, så finder du den her

Hvordan måles urets størrelse?

Diameteren
Vi bruger udtrykket diameteren, men da ikke alle ure har cirkelformet urkasser, så er dia meteren reelt bredden målt fra venstre til højre. Bemærk at enkelte producenter inkluderer kronen (til at indstille uret) og knapperne når de måler bredden, men vi forsøger at standardisere alle urene ved ikke at medregne kronen som en del af bredden.



Tykkelsen
Tykkelsen - eller højden på uret i profil - angives ved at måle uret fra top til bund som illustreret nedenunder. Til sammenligning er en dansk 5-krone mønt 2 millimeter tyk.
Man definerer normalt urene ud fra disse tal:
Tynd: 4-6 millimeter
Normal: 6-12 millimeter
Stort: 12-14 millimeter
Oversize: 14-18 millimeter

Andre produkter du måske kunne være interesseret i: